Highland Highlights
By Loraine Ritchey
Amanda's Diary
Amanda's Diary first ran in Dancer Nov.1997
Every performer, competitor and indeed everyone in all walks of life wishes recognition for hard work and commitment. Highland dancers from the USA and Canada made their way across the Atlantic to the Cowal Highland Gathering for this year's Highland Dancing World Championship (SOBHD) (competition only open to SOBHD registered dancers)
A young Canadian dancer, Amanda Tighe, who has on more than one occasion made the long drive home with a Championship trophy for company made the trip to Cowal for the first time. Indeed this was Amanda's first trip to Scotland and her first time on a plane. I asked Amanda to write down her thoughts as she and her family drank in the sights and sounds of their trip. I would very much like to share them with you.
Amanda's Diary:
"I loved the flight over; it was such a relief not to have to drive! Being up in the blue sky and the white, white clouds reminded me of mountains of snow. I never want to drive in our van again!
We didn't go to all the competitions that were going on in Scotland. We wanted to see Scotland as tourists and we did. We walked and walked. I really like Edinburgh Castle. It must be amazing to have a castle in your hometown. I thought it was awesome, all the history going back hundreds of years. The weather was great, up until the Cowal Games that is, then it rained and rained, but that didn't matter. Just being here (Scotland), where the dancing started from, was so exciting! We stayed in a hotel in Dumont on the Thursday. Looking out the window at the mountains and the water was a sight I had never seen before and sight I will never forget!
COWAL!!!! I have been to lots and lots of competitions and championships, and I thought this would be the same as any other, but it wasn't! The competition was held in a stadium. The stage was covered to protect the dancers, and it was large- great to dance on. Not like some of ours where you are afraid you'll hit another dancer or worse yet, fall off the edge!!! They took time to appreciate what you were doing and just being there with previous champions, watching the high standard of dancing put you on such a high you wanted to prove that you too belonged. I just wanted to fly!! Friday I was able to win in my heat, which meant Saturday I would be competing in the Worlds!!!!! Saturday my luck wasn't in and I didn't place. However I will take home with me more than medals.
While Amanda and her family were sightseeing and enjoying "Auntie Chrissy's chips (French fries) dancer Ashley Knox. MI 1997 US Champion (among her many titles) was enjoying her success in Scotland's other SOBHD Championships. Ashley added to her championship titles, Champion Isle of Bute, World Pipe Band Champion, Commonwealth Champion, Scottish Champion. Ashley came home with eight trophies and as the 3rd runner-up Juvenile World Cowal. Ashley wasn't the only American to do well in Scotland Michelle Cumagun, TX, is the new Juvenile World Champion. Colleen Rintamaki is the Junior World and Gregor Bowman, Scotland claims the Adult World.
***** Ashley Knox went on to win her World Championship in 1999. Amanda is now teaching.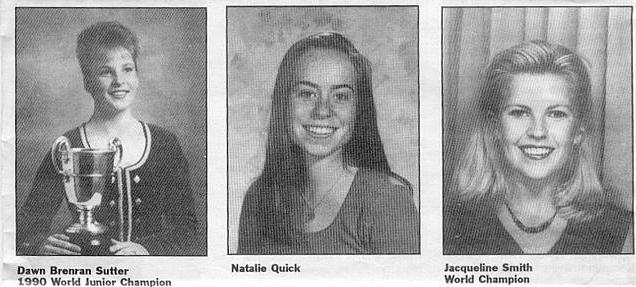 As always for Questions and Comments, I can be reached at
Loraine Ritchey, 1127.W. 4th Street, Lorain, Ohio, 44052.
lritch7@yahoo.com