Highland Highlights
By Loraine Ritchey

DANCER DECEMBER 2003


Crossing Over by Loraine Ritchey


Many of us thrilled at the movie "Billy Elliot", the young man from England who discovers the world of dance and ballet. Chris Wells is also such a young man, although his journey took a little different path.Chris also hails from England however Chris was and is a Highland dancer.The Scottish Official Highland Dancing Association had Victor Wesley, with whom readers of this column are familiar give a workshop in Scotland.Chris attended the workshop for Highland but it was there he became intrigued with ballet.Chris received a summer scholarship through The Academy of the Dance, Delaware for intensive study.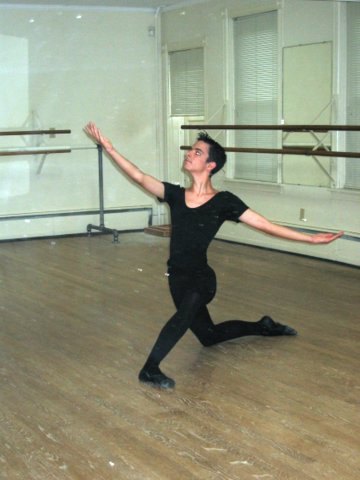 Chris in class


Chris' parents agreed to have their son travel the thousands of miles to realize his dream. "We were excited for Chris when he was offered a place at Mr. Wesley's summer school but also a little apprehensive about him going so far away by himself".By all accounts the work was very hard and intensive "The whole adventure was one great memorable experience, to pick out one memory is difficult.The teachers, the classes, the students and the family I stayed with bring back so many equally amazing experiences and memories I shall never forget." said Chris.


I spoke with Chris on his return to England, there armed with letters of introduction from Mr. Wesley he was going to audition for a place in The Royal Ballet School, London and the Northern Ballet School, Manchester. Would this young man from Highland with limited but intensive training in the world of ballet succeed in the audition process of two such prestigious schools? His first audition was in London followed by Manchester.


"I actually missed the official auditions into the schools because they take part in the autumn and spring.So they put me into a class very similar to the ones I had taken in the USA.I did this at both schools.The one teacher would watch me during the class.In the London audition they explained what would happen and then allowed me to prepare in the dance studio where the class would take place.Then I was introduced to the teacher and took my place at the bar. The class followed with the exercises at the bar and then the floor exercises.After the class had finished they told me their thoughts.



I was less nervous at the Manchester audition as I had some idea by then what to expect. The Manchester audition followed much in the same way. They also had an interview to discuss the course I would like to do. Students at the Manchester told me the teacher would be looking for potential and to relax which was nice. There were around thirty people taking part in both the classes in London and Manchester, there were also two other people having an audition".


Chris also interested in continuing his studies in the USA. "I very much would like to go and study from Mr. Wesley, I loved the school there and he provides wonderful training.I was told not only by Mr. Wesley but also by others, that you have to die for it, dancing I mean, that merely wanting it was not enough and I was shown that in the people over there (USA) Hard work was part of Mr. Wesley's motto and that is definitely important, determination, dedication and a true desire to dance have to be there as I discovered and was shown by some of the students while I was in the USA".


Summer and the auditions are over, so what has become of our Highland dancer, will he find his dreams in the world of ballet coming true? Chris has accepted a place with the Northern Ballet School, Manchester.His auditions proved very successful and he was excited about the new direction of dance that would take place in his life. " I still want to keep up with my Highland though I have always loved the dancing and I am lucky to have the opportunity I have been given." Chris parents are also very pleased,"We are proud of what he achieved in such a short time and are very grateful to the teachers at The Academy of the Dance."
Chris, the lad from England, traveled to Scotland for a Highland/Ballet workshop found himself in a few weeks across the ocean in the USA and now back to England where his hard work, talent, training and love of dance has secured him a place with the prestigious Northern Ballet School.

Questions and comments Loraine Ritchey. 1127.W 4th Street, Lorain, OH 44052 E-mail lritch7@yahoo.com
As always for Questions and Comments, I can be reached at
Loraine Ritchey, 1127.W. 4th Street, Lorain, Ohio, 44052.
lritch7@yahoo.com