Highland Highlights
By Loraine Ritchey
FIRE AND GRACE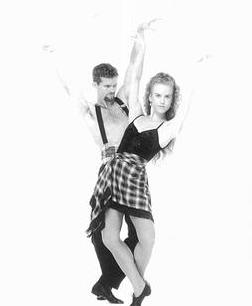 "Fire and Grace" Celtic Dance Theaters production commences it's first national tour season. Laura Carruthers, Artistic Director, principal dancer, choreographer and driving force behind the production wants "people in the mainstream to know Highland Dance. Highland Dance is mostly looked at as a sport; I'm now looking at it as an art form. I really want to expose Highland Dancing. If it doesn't happen now it isn't going to happen!"
"Fire and Grace" opened to rave reviews in Arizona last year. The company is comprised of an elite touring group of twelve accomplished and or professionally experienced dancers. As Laura is always looking to recruit, you may contact her for information on auditions.
Readers of "Dancer" will remember Laura from one or two articles on our National Champions. Laura however, is not just a very accomplished Highland Dancer, but as a former member of Ballet Arizona has extensive training in ballet, tap, and jazz.
Highland as it mostly danced in North America can be frustrating to the artistic side of a dancer. Where does the dancer who no longer wishes to compete go? We have seen recently the older age groups in competition drop off drastically. Dancing one or two numbers with the local pipe band (very rarely given the floor) teaching, local programs, there haven't been many opportunities for the dancer of Highland. A great shame when you think that by age 18 most Highland dancers have had at least 12 years of intensive training (year round I might add).
It was precisely this frustration and the need to combine her artistry and Highland training that led Laura to take on the monumental task of putting together her own production "Fire and Grace". "I was really inspired by "Riverdance". My plan was to expose Highland dancing the way "Riverdance" exposed Irish step dancing." However, apart from traditional Highland, Laura has incorporated contemporary and modern ballet and jazz elements.
Anyone who has mounted a production will tell you the horrendous amount of work and money required. Laura's " Celtic Dance Theater" is no exception to the rule. Laura writes, " currently I am revising the original production, designing new choreographies, modifying some of the technical and musical features of the program". As with any new production it becomes a "work in progress" and I have never met a Highland dancer who is ever satisfied that something is good enough. Maybe it is the competitive nature of the dance that keeps the dancer striving to be better. Laura is looking for support from the Highland community. "Celtic Dance Theater" has only one year to generate the funds necessary for the creation, revision and maintenance of a sophisticated production that will be competitive with other professional and reputable touring shows.
Laura asks the world's Highland dance teachers, dancers and adjudicators to become a sponsor as "Celtic Dance Theater" embarks on its ambitious journey. "Celtic Dance Theater" is a non-profit 501C-3 cultural arts and education organization, so all contributions are tax deductible. If every Highland dancer in the USA alone were to donate just $5, Laura tells me that alone would cover the technical costs of the show. Small price to pay considering the avenue of opportunities a touring company would give dancers of Highland to showcase their artistic side. Showcasing the dances in an arena with proper technical support enhancing the performance, instead of a field and a plywood platform. Think about the possibilities dancers, as you get ready for your next competition in that church basement. $5. Less than a competition entry fee that is all it will take and maybe just maybe if the Celtic gods are kind, there will be somewhere you or your students can perform after life in competition has ended.
You can contact Laura through her website, www.CelticDance.com or her e-mail laura@celticdance.com
As always for Questions and Comments, I can be reached at
Loraine Ritchey, 1127.W. 4th Street, Lorain, Ohio, 44052.
lritch7@yahoo.com