Highland Highlights
By Loraine Ritchey

1997 found me trying to describe the illusive magic of a great performer Jamie Jamieson "Technically performers can be equal in ability, but every so often a person is given that very elusive "something" that sets them apart from everyone else. "Magic"? I don't know but whatever it is, it is that intangible that comes across the footlights, movie, and television screen and enters our lives. All who watch know that they have been privileged to be part of something special, Jamie Jamieson had the magic!" D.G. Maclennan in his prologue "Highland and Traditional Dances" writes "Today America's leading man is James MacGregor Jamieson" 'Dancer' 1997".


Jamie Jamieson passed from this earth on Christmas Day 1993 but he is still giving back to the world of dance. This Champion Highland dancer, who along with the great Madam Helena Antonova, founded the "Academy of the Dance", Madam Helena Antonva, a graduate of the Bolshoi Ballet /member of the Bolshoi Company, joined the Ballets Russe with Nemtchinova. Witness to many co-operative efforts and sometimes battles between composers Georges Auric, Darius Milhaud, Maurice Ravel, Erik Satie, Igor Stravinsky. She was also present during the creative processes with Mikhail Fokine, Leonide Massine and George Balachine. Her colleagues and friends reads like the who's who of the artistic world. Coco Channel, Sir Thomas Beecham and how many people can boast of having Pablo Picasso for your child's godfather?


It was to Jamie Jamieson that she agreed to be a co owner of a world-class school in Wilmington Delaware. Jamie who also counted amongst his circle of friends the greats. He performed the Sword dance from Brigadoon before the Late President Kennedy and Mrs. Kennedy and their guests including the King of Morocco. This was not his first and last time at the Washington White House President George Bush honored Jamieson as one of Americas "Thousand Points of Light". The names of the greats in the theatre, movies and dance who would drop by to visit, whose lives were touched by Jamieson and his talent are too many to list. But one would be remiss for not mentioning his lifelong friendship with the great Agnes De Mille.


De Mille, noted choreographer credited with revolutionizing dance as part of the theatre, choreographed "Oklahoma". Jamieson was the captain of the National Company. When the show opened Demille recalled in a 1974 interview " the audience loathed it. When the curtain came down I stumbled into Jamie's arms and clung to him for comfort. We became fast friends." Their collaboration continued through the Edinburgh Festival, Germany, Australia, the US again the list goes on.


The students that attended the Wilmington based Academy of the dance can be found today performing on Broadway, the Boston Ballet, St Lois Ballet, Houston Ballet, Scottish Ballet, Pacific North West Ballet, American Ballet Theatre, performances with Liza Minelli, Joseph Limon, Alvin Ailey and Martha Graham are included in their credits. Without a doubt today's leading Director and Choreographer and multi "Tony Award Winner" Susan Stroman remembers her first formal training at the hands of Jamie Jamieson and the " Academy of the Dance". Her work in the 'The Producers' 'Contact' 'Crazy for You', 'Oklahoma', 'Thou Shalt Not' put her in league with such legends as Balanchine, Jerome Robbins, Boob Fosse and of course Agnes De Mille. Is it any wonder with her early training at the "Academy of the Dance" the influence of the De Mile/Jamieson partnership nurtured the young lady whom USA Today has hailed as " the most prominent musical theatre visionary of her generation".


Yes, Jamieson has left his legacy with the talents of today's leading dancers and choreographers and with his adopted son Victor Wesley (multi world Champion of Highland and a resume which includes dancing with the Dame Margot Fontayne), current Director of the "Academy of the Dance". Jamie Jamieson has also left a legacy not only of the talented but also of the financial "where with all" needed by dancers. Richard Gentsch, Director of Administrative Services of the Delaware Community Foundation, which oversees the "James Jamieson Memorial Scholarship" sent out letters dance studios looking for their best two students to audition for the annual scholarship.


Gentsch writes: "We plan to do this annually. Next year we plan to expand the scholarships into different types of dance. Also next year we won't limit the number finalists from each school. The audition was attended by the students and the scholarship committee and the judge. Parents were not allowed to attend the audition. We did not announce the winners at the audition. We sent the results via letter at a later date."


The adjudicator for this years audition process was Laveen Naidu, Ballet master for Dance Theatre of Harlem, the choreographer of such works as Viraa and South African Suite to name but two in his impressive repetoire.


Gentsh said " Based on conversation with him he was looking for students who could adjust to change in during the audition, were technically sound and had what he called "the spark". That flair, or energy that stood out, ability to assimilate a correction or new idea during the class, command of technique, and musicality including natural facility and joy in their work. All who auditioned were very well qualified, making the decision a difficult one. But ultimately Mr. Naidu chose the students he believed had the greatest potential at this time"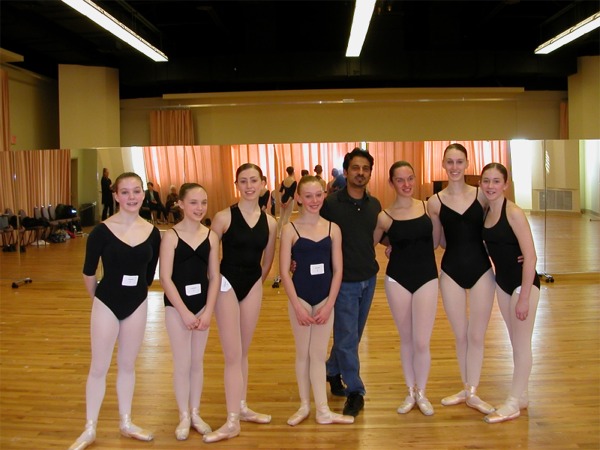 That criteria I am sure would have pleased Mr. Jamieson, he could not abide mediocrity he gave 110% and demanded the same of his students. " He was a demanding teacher who tried to pass on to his hundreds of students - those entering the profession and those who were not – the values he espoused of hard work, discipline, and artistic and personal integrity."(Delaware Community Foundation 2003)
It is indeed unfortunate that his beloved Highland has not benefited from this man's (known as "Mr. Brigadoon" by Presidents and Kings) great knowledge and expertise in the dance world. He had no patience with the politics of organizations in the Highland world. Highland's loss Ballet's gain! Anyone wishing to contribute to the fund can do so by sending a check to the James Jamieson Scholarship Fund at the Delaware Community Foundation. The donor gets a tax deduction for the gift. You may contact the Delaware Community Foundation, P.O. Box 1636,Wilmington Delaware 19899. Phone 302.571.8004 www.delfc.org


This years recipients are; Chelsea Gilday-Midwest Atlantic Ballet; Laura Clemens- Russian Ballet Centre; and Meghan Lee- First State Academy.


As always for Questions and Comments, I can be reached at
Loraine Ritchey, 1127.W. 4th Street, Lorain, Ohio, 44052.
lritch7@yahoo.com