Highland Highlights

By: Loraine Ritchey
A Rose By Any Other Name
There is a silver pink rose that has struggled to bloom in very adverse conditions in my front garden. Over the years it has faced adversity in the form of falling trees, winter winds,flooding, huge snowdrifts laced with salt. Still every spring, much to my amazement, this wonderful little rose comes back. It is my fault that it is planted in totally the wrong place. I have thought many times of transplanting it but I have held back. You see, this particular rose is always the last rose of summer and reminds me every year of another struggle."A rose by any other name.."

Her given name was Audrey Ellen. However, this wonderful little girl always wanted the name 'Rose'. Like my last rose of summer, that tries valiantly to bloom and release its heady perfume , to experience all that life can offer, in those last glorious days before the killing frost of autumn. So it was with our 'Rose'. Audrey was born with Gorham Syndrome. For nearly nine years she fought with quiet courage and dignity all that was thrown at her. A tracheotomy tube was inserted in her throat when she was three days old. "She will never talk!", but she did! Eventually her vocal chords became severely damaged, but if you were quiet and patient you could still hear her, like a breeze kissing the tree tops. It was with her eyes that Audrey communicated with the world around her. Huge eyes that would shine with excitement or grow quiet and closed when the pain was overwhelming.
During Audrey's brief sojourn in this world, she discovered the world of Highland Dancing. She begged her mom to let her learn these dances that had endured through many lifetimes. Her mother acquiesced. Gorham Syndrome is also known as the " disappearing bone disease". But this insidious disease was no match for the courage and heart of this tiny child. Audrey did indeed wear the kilt and don the shoes and step up on the platform. Her tartan was the tartan of Scotland 'St. Andrew's" ( the patron Saint of Scotland and whose torment also lasted longer than his peers) Our "rose" would watch the Premier dancers and see them defy the pull of the earth. Whilst she would wait in line with the other children, waiting to step up on that platform, they would laugh and talk about the dancing and the judges and how nervous and scared they all were. Not once was she made to feel different, unwanted or openly stared at. This wasn't always the case in the rest of her life.
The last time I saw Audrey was at a Highland Games in Ligonier, PA. These games are held every September in the magical "story book forest. It was one of those rare last days of summer, a perfect September day. Every color was vibrant, the blue of the sky couldn't have been any bluer, the sun any brighter with just an edge of autumn in the air. Audrey was there doing what she loved most. Dancing to the pipes, drinking in the sights, smells and sounds of the day and laughing with her eyes. Her family were very excited as she was going to have surgery in a few days to remove the huge tumor that had grown on her neck and shoulder. Audrey didn't survive the operation. The doctors were astounded that a child whose bones were barely showing up on the X-ray , and when they did looked like lace, had actually been dancing a few days earlier. They didn't know Audrey. Her bones may have been breaking with every movement, but not her wonderful little heart.
Audrey's mother said of her remarkable little girl " She gave her all. She was a miracle. She taught us so much whilst she was here. Audrey loved the dancing. We would tape the older dancers and she would watch them over and over again. The dancing always gave her so much joy." As I watch my "last rose of summer" struggle to survive to bring joy in those last fleeting days I cannot help but think of another "rose". So my rose will not be transplanted and I will wait for the bud to open again this September and remember a little girl with shining blonde hair and laughing eyes and her struggle and her phenomenal bravery.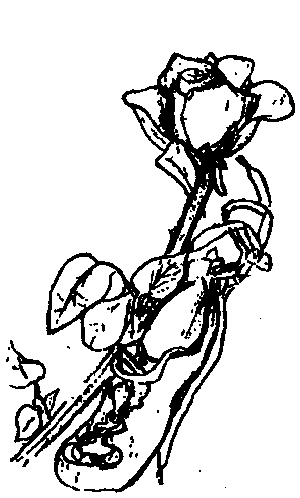 Questions and comments Loraine Ritchey, 1127 W.4th Street, Lorain, Ohio, 44052. Tel 440-246-6046
lritch7@yahoo.com , ritch@adelphia.net