Highland Highlights
By Loraine Ritchey

Appeared in Dancer January 2000


A Scottish November


Icy, crystal streams sparkling with morning light, rushing and frothing down the fern covered hillsides. Colours of green, gold burgundy painting the hedgerows. Winding lanes leading the traveler onwards through dappled sunlight forests, opaque morning mist, silent castles standing guard and quick-silvered lakes surrounded by hills of smoke purple variegated with dark green stands of pine. . Dramatic coastal roads, precariously close to the cliff edge and the pounding surf below roaring to announce its arrival on the craggy shore.


Small fishing villages, welcoming the traveler weary from the over indulgence experienced throughout the travels. The taking away of ones breath as you round another bend only to see the view before you more spectacular than the one before. Eyemouth, nestled safe and snug in the harbour, sea birds noisily welcoming, the people warm and friendly as the bar in the Ships Inn. All these things will tug at the corners of my mind as I carry on through the rest of my life's journey. However, not a ghost in sight!!!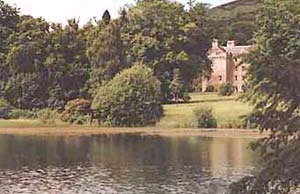 Culcreuch Castle, our home whilst in Scotland, lived up to all their claims in their brochure. This ancient Castle dates back to 1296 and is in the midst of Rob Roy and Wallace country. This was a truly magical place indeed, tucked away near the tiny village of Fintry. As it was November, there were very few tourists to bring me back to the present time. One could almost forget there were such things as automobiles and computers and phones. (Although the central heating was much appreciated)


"Scotland in November, are you mad?" cried my family "the weather in Scotland is awful"…not so. that magical November found blue skies with just a hint of morning frost in the air. The mists in the morning would lift to reveal the deer in the surrounding woodland, their warm breath creating "dragons smoke" from their nostrils, hoofs leaving tracks that disappeared in the frost covered grass. The sun warming away any evidence of their being, so you wondered after all if they had actually been there, or was it just another trick of the light in this place of quicksilver and magic.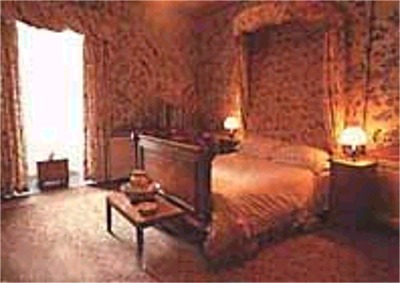 The Chinese Bedroom (named after its wall paper, the oldest remaining example in Scotland still adorns the walls) a huge double bed, ensuite bathroom and resident ghost. I bravely booked the room from the security of my living room in Ohio. The room was wonderful, with Egyptian linen and down comforters. I could really get used to living the high life, but I must admit I also left my bravery behind as I admit to sleeping with the lights on! (Not as brave as I thought I was) so my ghost, not being made very welcome, did not appear.


Scotland, with it's dramatic scenery and the timelessness makes you look inward and to your own mortality. The walls that protected the Laird and his family for generations through various uprisings, still standing strong and formable. Those walls that have given shelter for so many generations will I am sure be there long after our brief sojourn. Is it any wonder the Scots are so dogmatic about their homeland and culture. It is understandable that they are fiercely proud of their history and traditions.


A few years ago, I wrote of the Scottish teacher of Highland, who, when talking to her student before the Cowal Championship asked him to "look at the sky, the hills the ground beneath his feet, as this is what this dancing was all about". I understood what she meant but once I had seen those hills, I could fully realize why that young man ended up winning the World Title that year. In fact the year was 1973, the young man's name was Hugh Bigney (USA) and his teacher Vera Miller Patterson (Florida)


I not only didn't see a ghost on my Scottish travels, there wasn't a dancer or piper to be seen until I was back in London. The dancing was performed by the "tartan army" as they celebrated their win over the "auld enemy" England in football (soccer). The technique left a lot to be desired but it pointed up the fact that the dance is still used as a means of expressing joy and celebrating victory, even today. The pipes were banned by the football powers that be " as they are a nuisance and cause safety concerns in the stands". Craig Brown, coach of Scotland and former Highland Dancer had the last laugh however with the 1-0 victory.


The Scots are a proud and passionate people and the dances of Scotland, I believe, should contain those elements. The complaint from some quarters that the dancing today has become "too mechanical and boring" may have some justification. The job of teachers and students in this millennium should be to try and bring the joy, passion and pride back to the platforms. A place to start might be in asking oneself "Why are you teaching/dancing Highland?" An honest answer will go a long way in getting on the right track. If not just take a walk in those hills on a crisp November morning and listen for the sounds of the centuries that have gone before.


Honesty! This brings me back to my letters from Dancers readers and a rather worrying situation: "I recently attended a Highland Games and in the program there was a profile of a local Highland dance teacher (enclosed), this profile is totally inaccurate and my concern is that people are being duped in sending their children to (mentions individuals name) has actually had "hundreds of dancers many of whom are champions". This is not true!! Who do I write to and how can I complain?" I too, had seen the article in question and at very best the "profile" is misleading. However, in fairness, I am not sure that the teacher in question saw the article before it went to print in order that she could correct any mistakes made by over zealous acquaintances.


Recently I was a silent party to a conversation of a teacher/adjudicator to a young dancer and her mother…" I do like the tartan you are wearing, when I was at the Worlds, Cowal I wore the same tartan!" No harm in that surely except the young dancer and mother then rushed over to a friend and said " Miss so and so wore this tartan when she danced at the World Championship!" This particular teacher had never danced or even adjudicated at Cowal but like so many was a spectator. I waited for the teacher to correct the young dancer, however she just smiled and said nothing, and let another perception become reality! In my opinion there is much too much of perceived reality influencing the dancing.


Profiles are always going to have a positive slant to them and the dancer/parent has to realize that in choosing a teacher it has to involve more than just looking at a bio in a program. It is up to the parent to ask questions directly to the teacher as to their qualifications and accomplishments. A good teacher will always be happy to share qualifications and accomplishments with a prospective student/parent.


You can access information on Culcreuch Castle http://www.culcreuch.com


As always for Questions and Comments, I can be reached at
Loraine Ritchey, 1127.W. 4th Street, Lorain, Ohio, 44052.
lritch7@yahoo.com