Highland Highlights
By Loraine Ritchey
Victorian Scottish Union, Dancer 1999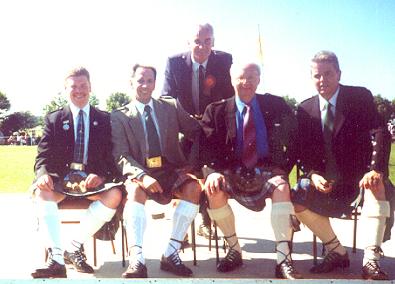 As in Scotland and other parts of the world Australia also has another dancing organization, not under the SOBHD. This is the article on the Victorian Scottish Union.


My New Years resolutions haven't been too terribly successful so far but my New Years prophecies are right on target. Readers will remember my alluding to the fact that I would be receiving mail on the article "New Lords of the Dance" and my subsequent article in DANCER. I didn't dream that the response would come from as far away as it has done. Australia, New Zealand as well as Scotland and Canada, amazing when you think that DANCER is not yet available in those countries. Obviously copies of DANCER have found their way "down under'. Not only have I received information but requests for subscriptions. I haven't been able to give the dancers etc. any good news on the subscription front, but I would like to share some of the correspondence I have received.

Once in a great while I am chastised for writing about organizations other than the one that governs Highland Dance in the US and Canada. "THIS" column is about "Highland Dance and its dancers". It is NOT about any ONE organization or any one group of dancers. We are not alone in the world of dance! There are a great many people worldwide interested in Highland. Views on how to proceed and perform may vary. It is not my intent to say who is right, who is wrong. Sharing of one's talent and information can only help a dancer decide how to proceed. Through writing this column I have found out how little I knew about the "art form" that my daughter chose. I continue to learn every time I open my mail!

For instance: Bill Schrank, Sec. of the Victorian Scottish Union contacted me from Australia. "You might be interested to know that there are other "Highland and National Dancing" organizations in Australia. The organization "Victorian Scottish Union Inc." was established in 1905 and embraces 46 Scottish Clan and Societies in the state of Victoria. An important sub-committee is the "Dancing Committee". We have approximately 70 competitions per year. Our dancers compete in Under 8,10,12,14,16 and over 16. Competitions dances are selected from Highland Fling, Seann Truibhas, Sword, Strathspey & Reel, Reel of Tulloch. Reading on I found not only do the Victorian dancers compete in dances whose names are well known to Americans but also the "Hopetoun Reel, Clansman Sword Dance, Irish Reel, Jig and Reel, Shillelagh Jig and Miss Forbes. Another difference being that the "VSU Dancing Committee" does not prescribe competition steps; teachers tailor the steps for each dancer according to their ability" Readers of DANCER will recall this is similar to how the Irish compete here in the US. Mr. Schrank also goes on to say the VSU has retained the traditional Highland Dancing costume; that is, full kilt with black jacket and plaid, Balmoral with feather. Some boys wear the Glengarry with feather (NOTE: later after viewing a tape the young man when performing the sword used the Glengarry as part of the dance, in my opinion adding another interesting element to the dance) There is also a second Dancing organization in Victoria called the Highland & National Dancing Association. Its activities like the VSU are only in Victoria. Mr. Schrank would be pleased to share information with dancers etc. You may write : Bill Schrank, Victorian Scottish Union Inc. 6, Union Street, Lower Templestowe, Victoria,3107, Australia.

Next stop for "DANCER DOWN UNDER" New Zealand, Mrs. Tui Downie kindly sent a copy of "Scotia Pacific" which is jam packed with information on Piping, Drumming and of course dancing. One of the organizations, New Zealand Piping and Dancing Assoc. was formed in 1929. "From very humble beginnings the Centre has gone from attracting 100 entries at their first competitions to conducting a 10 day festival attracting as many as 2,500 entries". The article on the daughter of two of the founding members drew my eye "Orma Smith". (NOTE Orma passed away recently and you may read her tribute on this site) Not only was this lady presented with an MBE (Member of the British Empire, from Her Majesty the Queen of England), she designed and had accepted (no easy task) a tartan commemorating the 60th Anniversary of the South Canterbury Piping and Dancing Association. The Association is now preparing for it's 70th anniversary celebration (1999) NOTE the Scottish judge invited was Charlie Mill and I will also be uploading his thoughts from that experience

My letterbox travels then took me back to Scotland where all this started and a letter from Alex McGuire NOTE. Alex is also the brother of Rosemary McGuire 6 time World Champion, whose story appears on this site Alex is extremely well known for his contributions to Highland Dance both in Scotland and through out the world. Alex has kindly sent "an Address" he delivered at the first meeting of the Scottish Traditions of Dance Trust. I will in following columns be bringing some of his remarks and brief histories. However since this column is dealing with associations the following I believe is appropriate. "You only have to study a "Clan Map" of Scotland to realize that the various clans were widely scattered across the land "occupying" as it were their own piece of territory. This being the case, it was inevitable because of distance, a sense of parochialism and at the same time poor means of communication, various dance styles, technique, steps and movements developed which were peculiar to particular regions of Scotland. Eventually when more civilized and peaceful times prevailed and Scottish society settled into the social and political structures more akin to today, some of the "past masters" as they are often refereed to, would travel within their own areas, setting up dancing schools for the passing on of their traditional art as it had developed within their particular region. As freedom of movement and better means of communication came about, people with common interests would generally come together and form Associations. These Associations were founded for the common exchange of ideas, for the further promotion of what bound them together, but more importantly, for the preservation and passing on of tradition. Scottish Highland Dancing was no exception. Forming of Associations was not peculiar to Scotland, for many exponents of the art of Highland Dancing emigrated to far flung regions of the world, taking with them the traditions of the dance which had been passed down to them by their forefathers. How natural was it for them, being in a foreign lad, to come together and form Associations." To be continued:

I wonder what those "past masters" would think if they could see just how far afield the "art" of Highland dancing has traveled. Technology has opened up a whole world for us. We only limit our art and ourselves by not opening up our minds and hearts to others and their ideas. So this column will continue to cover all associations and their dancers.
As always for Questions and Comments, I can be reached at
Loraine Ritchey, 1127.W. 4th Street, Lorain, Ohio, 44052.
lritch7@yahoo.com